Profile
A High Level of Customisation and Effective Solutions.
The factors behind the deserved excellent reputation are fundamental to the Company; Great attention to the selection of raw materials; A reliable and dedicated team of skilled employees; Absolute attention to the standards of quality involved in fulfilling the requirements of the customer.
EUROFLUID HYDRAULIC components are highly regarded by customers and manufacturers of hydraulic systems and automatic machines, and they are also appropriated in many applications in various industrial sectors.
The wide range of components made by EUROFLUID HYDRAULIC allow it to satisfy every kind of request: Simple Subplates, Packing Subplates, Monoblocks, and Valves are kept in stock for standard solutions. The role of the Technical Department is also of great importance, thanks to the expertise of its specialists in their ability to fulfil, with efficiency, each particular application of solutions that require high levels of customisation.
Production is carried out exclusively in EUROFLUID HYDRAULIC sites, where modern C.N.C Machines (horizontal C.N.C machines) are used under the supervision of experienced professionals who monitor the quality of components produced, in order to ensure complete safety and reliability.
The quest for excellence EUROFLUID HYDRAULIC follows, in every stage of the life of the product, from raw materials to production and final testing, is also apparent in the efficiency of the shipping department, whose commitment is aimed at ensuring a punctual delivery service to the customer.
EUROFLUID HYDRAULIC has a staff of over 90 employees, covers a production area of 8,500 square meters.
Quality
Always at the Heart of our Service.
With the achievement, in 2004, of ISO 9001:2000 certification, EUROFLUID HYDRAULICS reinforced awareness that only through continuous, targeted, preventative actions, can it constantly improve production efficiency and the quality of its products.
For EUROFLUID HYDRAULICS 'quality' is not simply an objective for which to aim, it is the philosophy of the company. With this at the heart of the business, the needs of the customer are placed centre stage in of every aspect of production.
Production
Timely and Tailored Answers to Satisfy Customer Requirements.
To optomize the quality of its processes, EUROFLUID HYDRAULIC divides into two areas, to define its production of Manifolds.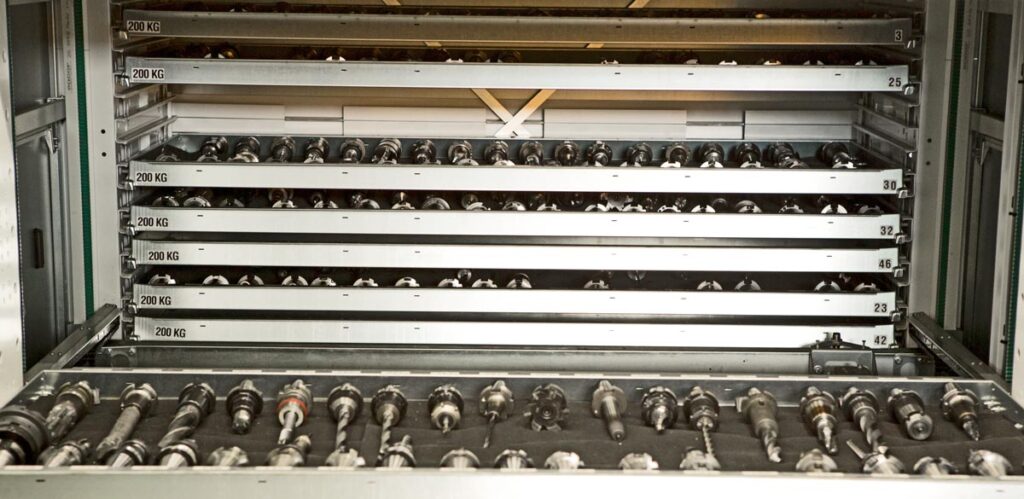 The first comprises of a department dedicated to the production of samples of the blocks. In this area specialised employees with a high level of experience fabricate samples of up to three manifolds, providing the customer with a high quality and thorough service.
The second area is dedicated to the production of large quantities with 10 CNC machines with a multi-pallet system that can produce 1000 pcs, with medium batches of 50 pcs.
This flexibility in production allows EUROFLUID HYDRAULIC to respond in a prompt manner and target the needs of its customers, maintaining high quality standards through the use of technology and constant training of its employees. These are the cornerstones in which EUROFLUID HYDRAULIC has always believed and continues to invest.
Market
A network of 200 Dealers.
EUROFLUID HYDRAULIC recognises the integral importance of its sales network, which creates a close working relationship aimed at generating mutual growth and development. In addition to providing the world's greatest leaders of hydraulic valves, the network is comprised of over 200 suppliers that help to ensure a presence of EUROFLUID HYDRAULIC brands throughout Europe.
The complete range of products (NG6/NG10/NG16/NG25), together with its Technical and Marketing support, are part of the added value with which the company retains its loyal customers. These customers find EUROFLUID HYDRAULIC an excellent partner not only for standard solutions, but also for the realisation of designs for specific, customised applications.
EUROFLUID HYDRAULIC also pays great attention to keeping up to date with all developments in the markets, and its changes. This means the company is able to anticipate the developments in progress, both in terms of solution and service, thus offering its customers a competitive advantage.
MISSION
EUROFLUID HYDRAULIC's Mission is to be a leading European supplier of hydraulic blocks for both industrial systems and systems in the earthmoving and agricultural sector.
VALUES AND PRICIPLES
EUROFLUID HYDRAULIC is aware that to ensure that its mission continues to be successful, it is important that positive and shared values and principles are maintained at the basis of relationships with its staff, customers and suppliers.
Recognizes that people are their most precious resource and want to persevere in their goal of encouraging an atmosphere of mutual trust and respect, maintaining good communication, good training at all levels within the company and operating in a socially responsible manner towards the environment.
Choosing EUROFLUID means making a choice of VALUE.
History
A Benchmark from 1994
The story begins in 1957, the year founder Gino Lugli, after his technical studies, began working in engineering companies which, at the time, were technologically advanced, such as LOMBARDI MOTORI.
Lugli founded his first company in the mechanical engineering sector in 1967, naming it LC MECCANIA GENERALI. In 1973 it was transformed into LC OLEODINAMICA, the current Bosch Rexroth LC division.
In 1994, exploiting his decades of experience in both the metalworking, mechanical engineering and hydraulic sectors, Gino Lugli founded EUROFLUID HYDRAULIC with the sole intention of manufacturing specific items for the production of top quality hydraulic blocks, thus enabling all the proven skills of his collaborators within the hydraulic industry over the years.
EUROFLUID HYDRAULIC components are highly regarded by the majority of customers and manufacturers of hydraulic systems and automatic machines, and are also sought for many applications in various industrial sectors.
Thanks to its specialists, the technical department also plays a primary role with its efficiency and ability to realise specific applications requiring high levels of customisation.
The new industrial plant covers an area of 8,500 square meters